Can you believe Easter is almost upon us? Where has the beginning of 2021 gone, didn't we just have Christmas?!
Various cultures, countries and communities around the world have their own traditions to celebrate the Easter holiday. Some of them are celebrating by eating chocolate bunnies, some by gathering in churches, others by going on Easter egg hunts or flying kites. Here are some of the most interesting Easter traditions from the globe.
1. New York, USA
On Easter Sunday, New York City partakes in a tradition that has been around since the late 1800s. The Easter Parade began with the decoration of sanctuaries in churches with Easter flowers. The flower decorations became more flamboyant and stylish over time and by the late nineteenth century, people wore fashionable clothing and paraded down the streets to see the flowers in church. Today, eye-catching Easter bonnets are worn by people of all ages in a procession from 49th to 57th street on Fifth Avenue, Manhattan. The best place to watch is from St Patrick's Cathedral.
2. Hamilton, Bermuda
Bermudians celebrate Good Friday by flying home-made kites, filling the shores and skies of Horseshoe Bay Beach with kaleidoscopic colors. The tradition is said to have begun when a local teacher from the British Army had difficulty explaining Christ's ascension to Heaven to his Sunday school class, he made a kite – shaped like a cross – to illustrate the Ascension. The traditional Bermuda kites are made with colorful tissue paper, long tails, wood, metal, and string. Bermudians also dig into fish cakes and hot cross buns when it's Easter.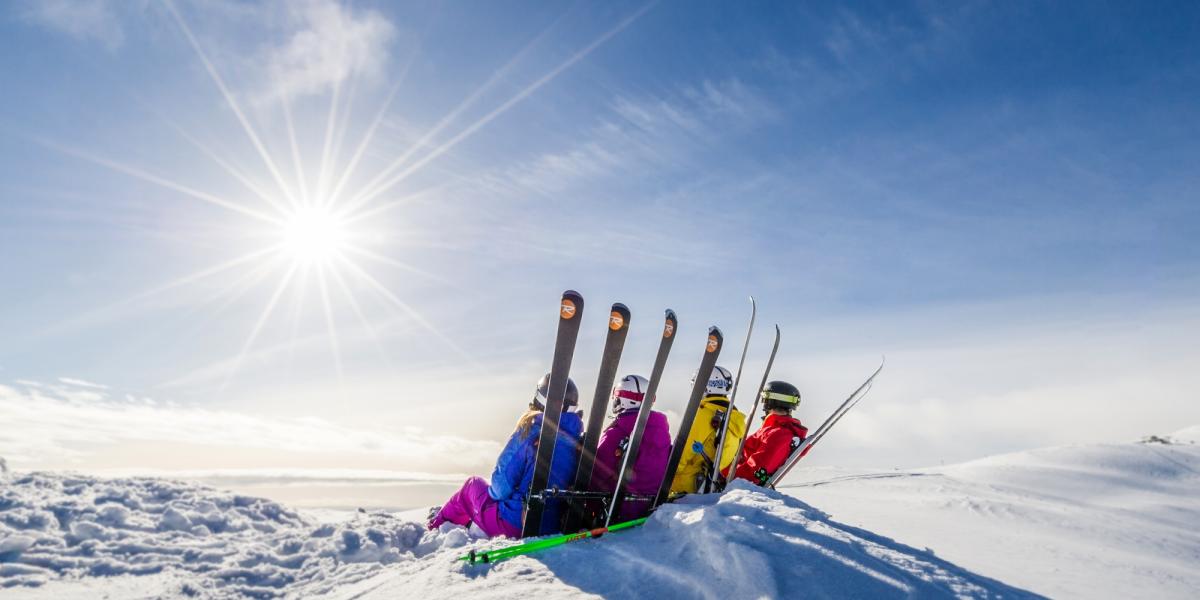 3. Oslo, Norway
Norwegians have an interesting tradition for the season known for "Easter-Crime" or Paaskekrim. At this time of year, many around the country read mystery books or watch the televised crime detective series on national television, according to The Norway Post. Many families escape up to the mountains for the vacation week beginning the Friday before Palm Sunday and ending the Tuesday after Easter Monday. The image below shows Norwegian mystery novels in display during the Easter holiday.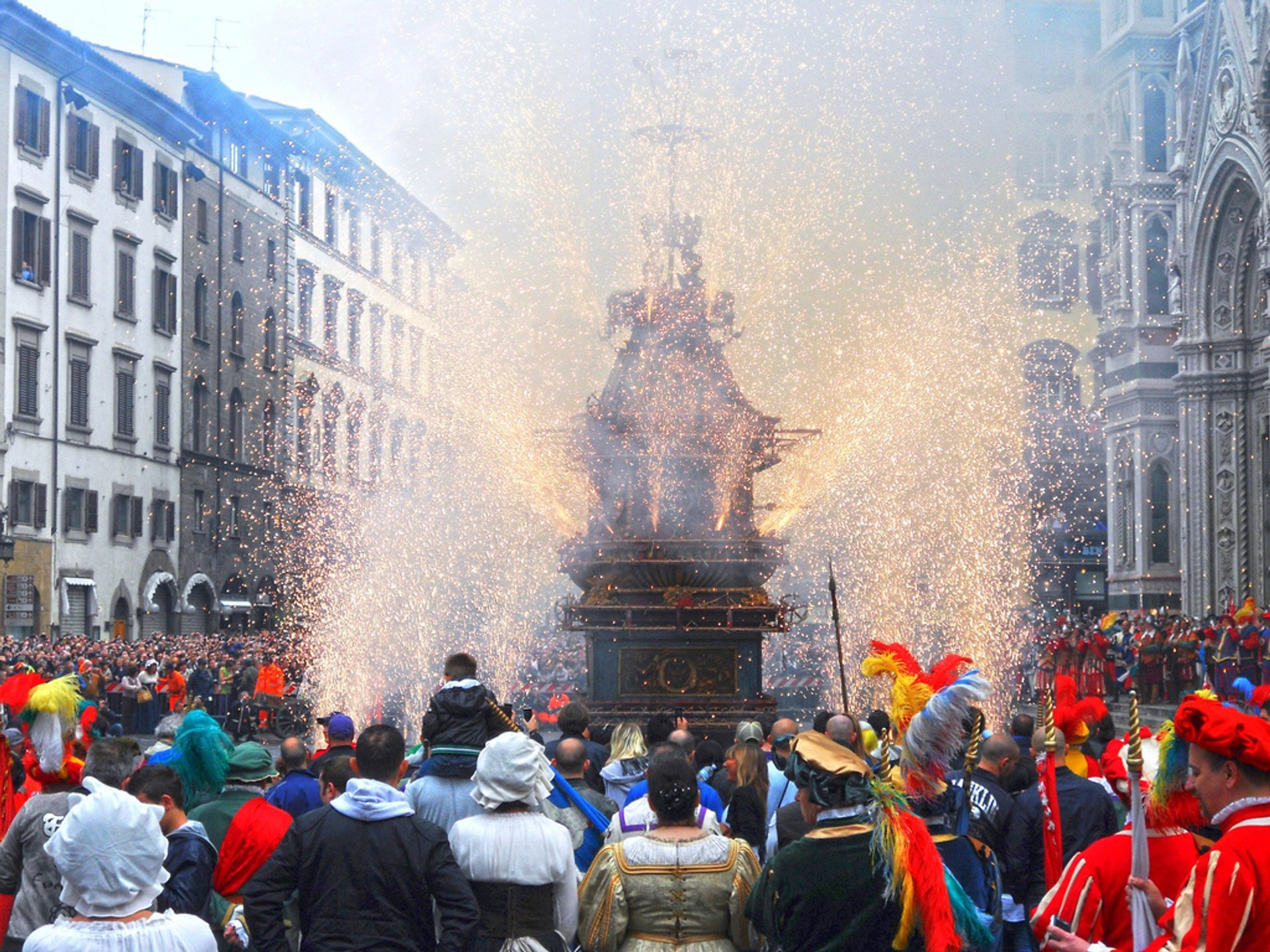 4. Florence, Italy
In Florence, they have Scoppio del Carro or 'Explosion of the Cart' where a cart filled with fireworks and pyrotechnics is lit on Easter Sunday. The cart or waggon is pulled through the city square by oxen followed by a concert of drummers and people dressed in historical costumes. When the cart arrives at the cathedral, the Archbishop lights a dove-shaped rocket called the 'Colombina' which symbolises the Holy Spirit. The rocket then flies down a wire to the outside of the church and impacts the waggon, resulting in a spectacular firework display.
5. Stockholm, Sweden
A mainly secular holiday in the Lutheran country of Sweden, Easter is celebrated with meals of eggs, herring, and Jansson's Temptation (potato, onion and pickled sardines baked in cream). The most interesting tradition to come out of Sweden is that in the days leading up to Easter Sunday, children dress up as Easter witches, wearing old and discarded clothes. Traveling from home to home in their neighborhoods, the children trade paintings and drawings for sweets.
6. Addis Ababa, Ethiopia
The Ethiopian Orthodox Church celebrates Easter or Fasika one or two weeks after churches in the West and it is considered to be more important than Christmas. After a 56-day fast that includes following a predominantly vegan diet (no meat or dairy products), families dress in white and gather for a gastronomical affair where they enjoy doro wot (spicy chicken stew), Injera (flat-bread) and honey wine.
7. Souvenance, Haiti
In Haiti, Holy Week is marked by colorful parades and traditional "rara" music played on bamboo trumpets, maracas, drums, even coffee cans. According to About.com, the holiday is a mixture of Catholic and Voodoo traditions. Voodoo believers make an annual pilgrimage to the village of Souvenance. In the photo below devout voodoo believers hold a goat head and other parts, as offerings to the spirits, during a ceremony in Souvenance village, Haiti. Showing devotion to the spirits, the celebration is marked by drumming, chanting and animal sacrifices.
8. Verges, Spain
In Verges, locals observe Easter by having Holy Festival Week or Semana Santa. The culmination of this is Maundy Thursday which commemorates the Last Supper. This festival is called the 'Dance of Death' or Dansa de la Mort where people dressed in luminescent skeleton costumes perform dances carrying clocks, scythes and ashes. There is also a procession by hooded penitents and 'Jesus' and 'Mary' through the town of Verges.